In the contest of Consumeless Plus, an event dedicated to exploring new opportunities for the re-launch and social economic development of future's tourism destinations, through the topics of social innovation, sustainability and digital nomads.
With Francesca Folda, Global Communication Director at Amani Institute, we will explore examples from all over the world, where through dynamics of social innovation have been created alliances between tourists and residents.
Danilo Messineo, co-founder of Evermind, will explain how an italian destination, Nicotera, evolved from a "tourist destination" to an "hospitable destination".
Who are the digital nomads and how the partnership between public and private institutions are helping Croatia to become an attractive destination for digital nomads. Tanja Polegubic, founder and CEO of Saltwater will analyse the Zagreb and Dubrovnik examples.
Elke Dens, Director of Global Programmes at the Travel Foundation will help us understand what is necessary for a future-proof tourism and what you can do about it.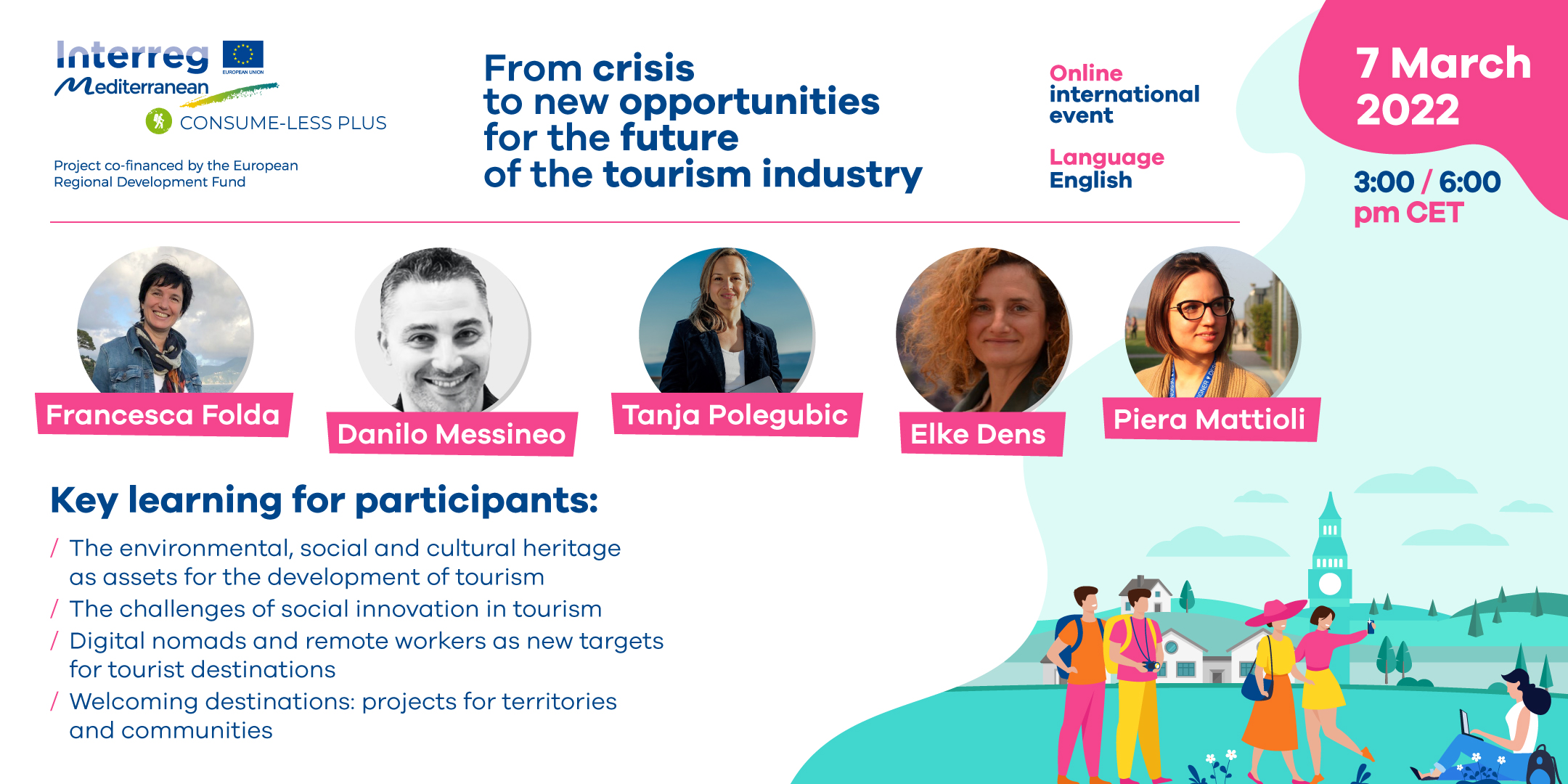 Tourism has always been based on local resources and facilities and in the current evolution trend it finds new anchors to the territory and its peculiarities.
By attracting new targets, enhancing traditions and safeguarding local socio-cultural and environmental resources, we can relaunch our territories and their communities, while focusing on their specificities, to open up new future perspectives of inclusive and sustainable development.
The drop in tourism industry caused by the COVID-19 pandemic provides an opportunity to re-think destinations by encouraging a more accountable and sustainable offer. This favours, in particular, less renowned destinations that can thus benefit from a positive economic impact on the entire territorial system.
Starting from real-life examples, during this participatory online workshop we will investigate how, today, we can develop a new approach to tackle tourist industry economic crisis and draw a broader vision. This should include new opportunities, new dynamic patterns and business models, that are closer and more aligned with Sustainable Development Goals, the contents of the UN 2030 agenda
Solutions may vary from country to country and the pace and extent of the recovery in tourist flows will obviously depend on global developments. But there is an important opportunity that should be leveraged. Besides their immediate need to mitigate the impact of the COVID-19 pandemic, countries will need to create the "new normality" for the tourism business.
This implies diversifying, switching to more sustainable models, focusing on social innovation and strengthening the connections between tourism and agriculture, production and entertainment, through locally created experiences, products and services. Investing in new technologies and attracting new emerging targets can contribute to shaping recovery.
From now on, travellers will increasingly choose destinations, experiences and tourism products that are focused on environmental, economic and social sustainability. These include plastic-free initiatives and improvements in reducing waste and carbon emissions, the preservation and empowerment of local culture, communities and products: tourism operators need to connect with their travellers on all of these points of interest.
Social innovation can activate communities and turn tourists and residents into allies in local development projects, while building a vision of destinations that can attract travellers and be enjoyed without being "consumed".
At the same time, the pandemic has brought about a real revolution in workplaces. Travelling and working remotely, wherever there is a connection to the network, is now a reality for millions of people. This means an increasing number of entrepreneurs and freelancers or, more in general, talents, who move to find meaningful experiences and places all over the world, where living and working is more beautiful.
These professionals bring with them a huge background of digital skills and expertise and can be the fertile ground where new start-ups and innovative projects with a social impact can be grown, right in the nations, countries and regions that choose to attract them.
Among those countries that have realised what opportunities this new trend can bring forth, the challenge has already begun to understand how to become attractive for this new generation of professionals who have no office and no badge.
The event is organized by Ambiente Italia srl and Energy Water Agency of Malta in the contest of the project Consumeless Plus (financed under the Interreg Med Program) in synergy with the other partners and with the support of  SVI.MED. – Centro Euromediterraneo per lo Sviluppo Sostenibile and Associazione Italiana Nomadi Digitali ETS.
Register here: https://bit.ly/36sF6FD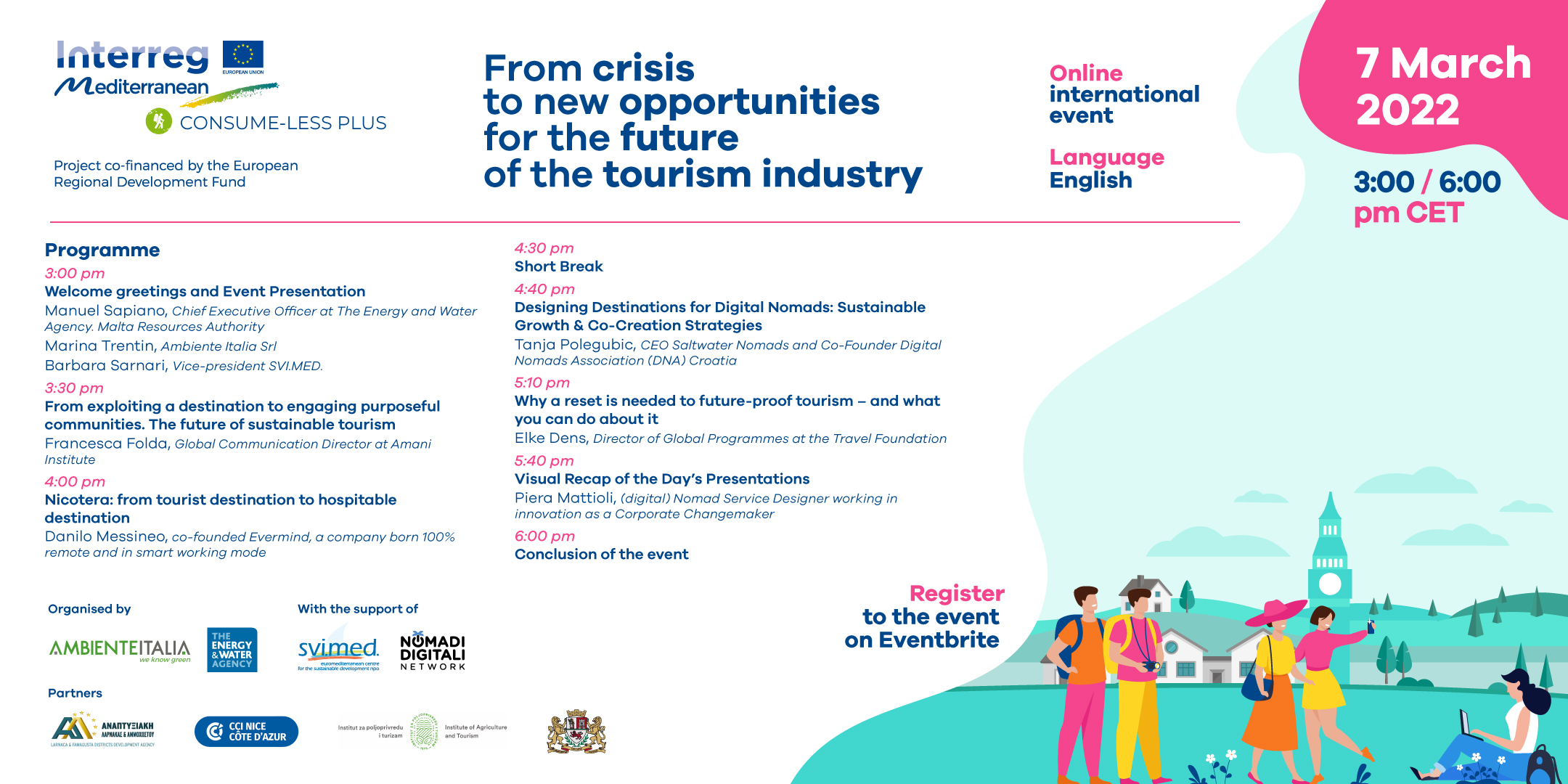 Please follow and like us: