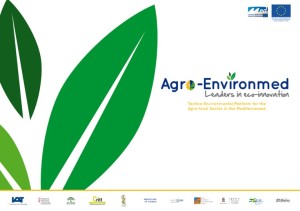 Description:
The AGRO-ENVIRONMED project aims at promoting eco-innovation in companies, particularly SMEs, within the Mediterranean agrofood sector, through the creation of a platform that will involve most relevant key players in the field of eco-innovation and environmental technologies within the agro-food sector. The project consortium will work together for the reation of this platform, in order to ensure the involvement of a relevant number of stakeholders and therefore guarantee a ajor impact of project results. The platform aims at being sustainable beyond the project, allowing therefore the nhancement of Eco-innovation and the use of environmental technologies through the exchange of experiences and the ransfer of knowledge.
The main aim is the Creation of a network to support organizations in the food industry within the Mediteranean region in incorparating technologies and good practices in Environmental Management.
Technical activities:
survey, data collection and analysis for the development of techno-environmental assessments and action plans to help SMEs improve their environmental performance;
support for the development of an on-line catalogue of technologies and best environmental management practices in the Mediterranean agro-food sector to enable identification and sharing of knowledge and information at European level of eco-innovative activities.
Partnership:
| | |
| --- | --- |
| ANDALUSIAN INSTITUTE OF TECHNOLOGY | SPAIN |
| NATIONAL AND KAPODISTRIANUNIVERSITY OF ATHENS | GREECE |
| PREFECTURE OF FLORINAGREECE | MAKEDONIA |
| SCIENCE AND TECHNOLOGYPARK OF SICILY | ITALY |
| ENVIRONMENT, WATER, TOWN PLANNING AND HOUSING DEPARTMENT OF VALENCIAN GOVERNMENT | SPAIN |
| REGIONAL GOVERNMENT FOR ENVIRONMENT, ANDALUSIA | SPAIN |
| EUROBIC TOSCANA SUD | ITALY |
| ENTREPRENEURS ASSOCIATION OF ALENTEJO-AEAL | PORTUGAL |
| SCIENTIFIC RESEARCH CENTRE BISTRA PTUJ | SLOVENIA |
| CRITT FOOD ALIMENTARY PACA | FRANCE |
| APULIA REGION-REGIONAL DEPARTMENT FOR ECONOMIC DEVELOPMENT | ITALY |
| | |
| --- | --- |
| CROATIAN CLEANERPRODUCTION CENTER | CROATIA |
Aims and results: 
The general goal of the project s the creation of a long-lasting Med agrofood Platform that will act as a techno-environmental cluster, helping the dissemination of eco-innovative technologies and know-how and improving thus the competitiveness of the sector, particularly in SMEs.
The specific objectives of the project are:
Promotion of the exchange of information related to Eco-innovation and Environmental Technologies in the Med agro-food sector.
Improvement of the environmental performance of agro-food companies in the Med area, through the implementation of Environmental Technologies and the transfer of best practices.
Foster the economic growth of the agrofood sector through the reduction of its impact on the environment and the development of new markets, processes and products that are more sustainable and environmental-friendly.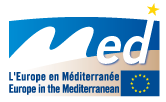 Please follow and like us: