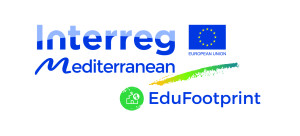 Description:
EduFootprint intends to raise capacity of owner and managers of public buildings for better management of energy; it will be done considering not just direct energy impacts of buildings (consumption), but also indirect ones (public procurement or general awareness and behavior). Activities will be concentrated in the test and transferability of an integrated energy strategy with a Life Cycle Assessment (LCA) approach in schools, consisting in the elaboration and implementation of energy efficient practices integrated with local Sustainable Energy Action Plans (SEAPS).
Transnational action is vital because the project will test the EduFootprint model in different MED countries and it will disseminate the innovative solutions involving public authorities and owners, private sectors and end-users in seven MED regions. The less experienced areas would have the opportunity of acting upon well-proven basis from the pre-existing know-how of other partners, and the model would be test in countries with different ways of public buildings management.
The project will allow reducing energy costs for public buildings in MED area. The use of an approach that considers the school in its complete life cycle, assures a multiplying effect of actions, so a sustainable low-carbon citizen lifestyles and educational and cultural growth and promotion of eco-innovation solutions for various stakeholders (students, their families, teachers, public institutions, energy services providers).
Partnership:
| | |
| --- | --- |
| Province of Treviso |  ITALY |
| Regional Energy and Environment Agency from North Alentejo |  PORTUGAL |
| Institute for Innovation and Development of University of Ljubljana | SLOVENIA |
| Svimed – EuroMediterranean Centre for the sustainable development | ITALY |
| UET Centre / Office for Project Development and Research | ALBANIA |
| EGTC Efxini Poli – SolidarCity NETWORK | GREECE |
| Andalusian Institute of Technology | SPAIN |
| Ambiente Italia srl | ITALY |
| Institute "Stefanini" Treviso – Schoolnet for environment and energy saving ISIDE | ITALY |
Associated:
| | |
| --- | --- |
| Municipality of Elbasan | ALBANIA |
| Institution CIMAA – Intermunicipal Community of Alto Alentejo | PORTUGAL |
| ATS Obiettivo Zero | ITALY |
| Ministry for Education, Science and Sport | SLOVENIA |
| ANCI – Regional Association of municipalities of Veneto Region | ITALY |
| Union of the Provinces of Veneto | ITALY |
| Municipality of Zagorje ob Savi | SLOVENIA |
| Municipality of Seville | SPAIN |
| Region of Peloponnese | GREECE |
Outputs :
An innovative model of assessment and management of school buildings that allows to reduce their environmental footprint and to strengthen local SEAPs : The EduFootprint model consists on tools to assess the environmental footprint of schools: an automatic calculator with School Environmental Footprint Guidelines (SEFGs) for owners and managers and a pre-defined package of actions for reducing the footprint
Competence of buildings owners and managers to develop and implement energy efficiency practices in public school buildings in the MED area
A transnational EduFootprint network of schools to assure the transferability of the model in all the Mediterranean area
Salva
Salva
Salva
Salva
Salva
Salva
Please follow and like us: