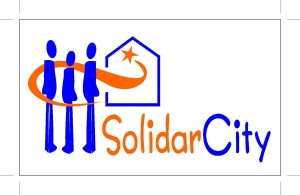 Description:
National and European employment objectives cannot be achieved without the active involvement of actors at the regional and local level. The idea of the project SolidarCity has been developed in continuity of 3 EQUAL Projects implemented during the period 2001 – 2006 by EFXINI POLI / Network of 30 Local Authorities and in collaboration with multidimensional partnerships all having experience in working within the existing employment policy framework and tailoring programs to local needs, influencing the employment development policy itself by becoming an integral part of policy design and appliance.
Partnership:
| | |
| --- | --- |
| Efxini Poli | Grecia |
| University of Oulu, Lönnrot Institute | Finlandia |
| "Politehnica" University of Timisoara | Romania |
| Municipality of Razgrad | Bulgaria |
| London College of Communication (University of the Arts London) | UK |
| Association of Town Centre Management | UK |
| Regional Agribusiness Centre-Vidin /RABC | Bulgaria |
| Region Siciliana – Dipartimento regionale del lavoro, dell'impiego, dell'orientamento, dei servizi e delle attività formative | Italia |
| So.Sv.I. s.r.l. Società Sviluppo Ibleo | Italia |
| Horezu Mayoralty | Romania |
| Vulcan Local Council, Hunedoara County | Romania |
Aims:
Overall objective of the SolidarCity project, is to improve the effectiveness of regional development policies by enhancing the role and involvement of local and regional authorities and civil society in employment rate increase through exploring the parameters which burden the active participation into the local labor market and finding ways to create more and better jobs at local level.
Sub-objectives of the SolidarCity project are the following:
exchange, dissemination and transfer of experiences, policies, strategies and Good Practices in the frame of employment rate increase;
ensure that the wealth of experience and good practices which exists in Europe's regions like the UK and Finland in employment rate increase policy is shared as widely as possible and exploited fully to promote the role and involvement of local authorities and the civil society in growth and jobs creation match less experienced regions with regions with more experience by involving partners from convergence, phasing-out, phasing-in, competitiveness and employment regions, showing a wide coverage of European Union territory and having a coherent approach;
set up and improvement of LED initiatives by ensuring inclusive labour markets, supporting the inclusion of those furthest away from the labour market;
active involvement and networking of civil society with local and regional policy actors by fighting non inclusion parameters (establishment of banca tempo) and by forming "SolidarCity groups" for creating jobs;
contribute to the aims of Cohesion Policy, Lisbon's and Gothenburg agendas, Regions for Economic Change Communication, European Employment Strategy all referring to more and better jobs building a two-way bridge by including policy makers and decision makers,
play a supportive role for local actors, involve local players in the design and development of job creation and inclusion policies,
motivate and encourage more people and organisations to get involved into contribution to employment in their locality,
add value to the efforts of EU, national governments and regional governments by have a real impact on persistent problems of unemployment, skills shortages and inequality across Europe,
recognise the needs and potential of a particular locality,
draw a focus on gender equality and environmental sustainability,
create the conditions for an overall employment rate of 70% in 2010, for women of 60% in 2010 and an employment rate of 50% for older workers (aged 55-64) in 2010,
ensure that all levels work together in a coherent way to achieve the employment, targets that the EU has set itself, while simultaneously addressing their own employment problems.

Please follow and like us: