Description
The rationale behind MEDIWAT is identifying and developing innovative and integrated tools (technical, operational and administrative) for managing environmental issues related to water shortage and quality worsening problems afflicting Med islands. Once assessed at local/regional level, such tools will be first exploited by local authorities for defining effective regulatory instruments (strategic master plans) and then implemented by domestic stakeholders. According to the EU directives, the need to implement the sustainable management of natural resources affected by anthropic activities is even more stringent in the case of Med islands where water resources deterioration is threatening local environment (landscape,rivers, aquifers, bathing water), economy (tourism, agriculture) and society (population decrease because of migration phenomena).
The key actions of the project are:
SWOT analysis of water policies, strategies, needs and priorities of Med islands, in relationship with the economic and social features;
exchange of experience and identification of currently best available tools for managing water shortage and quality related issues;
running experimental pilot projects aimed at developing and evaluating effectiveness and transferability of proposed solutions for mitigating water quantity and quality stress as well as managing water demand related problems;
definition of transnational strategies for the actual implementation of selected tools through the elaboration of strategic master plans;
enhancement of the transnational cooperation between public, private and research structures for the continuous improvement of capacities;
dissemination and exploitation of the obtained results by the interaction among the partners that will constitute a permanent (web-based) advisory platform in which all the interested players (public authorities, water companies and research entities) will be involved supplying their own experience and knowledge.
Partnership:

| | |
| --- | --- |
| Sicilian Region – Regional Agency for Waste and Water – Water Observatory | Italy |
| University of Catania – Department of Agricultural Engineering | Italy |
| Water Research Institute, National Research Council – Department of Bari | Italy |
| Malta Resources Authority | Malta |
| Water board of Lemesos | Cyprus |
| Technical University of Crete | Greece |
| Municipal Enterprise for Water and Sewage of Chania | Greece |
| University of Barcelona | Spain |
| Aquagest Medio Ambiente (ex SEARSA) | Spain |
| CEMAGREF | France |
Aims and results: 
1) To develop innovative approaches and tools for fighting environmental problems caused by water stress in Med islands;
2) To implement the proposed solutions through the elaboration of strategic master plans in order to guarantee some institutional changes in the framework of territorial development;
3) To implement a permanent advisory platform aimed at supporting Med islands key-actors when planning water resources management
Such objectives will be achieved by: capitalizing previous results; running specific pilot tests; assessing the optimized solutions in Med islands for their implementation into local policies; involving decision makers and key-actors to support the adoption of the master plans into the economic development strategies.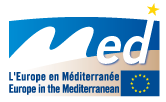 Please follow and like us: