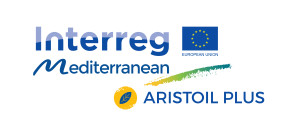 The ARISTOILPLUS project is a European cooperation project co-financed by the European Regional Development Fund (ERDF) under the Interreg MEDITERRANEAN 2014-2023 program and intends to transfer the results of the Aristoil project. Starting from that experience, the ARISTOILPLUS  project aims to increase consciousness of Mediterranean Olive Oil actors on innovative production methods which result in Extra Virgin Olive Oil (EVOO) rich in polyphenols and therefore a new product of higher health value in the market and for ameliorate the health of consumers.
To achieve this goal ARISTOILPLUS will transfer the Guidelines for production of High Phenolic Olive Oil and the certification methods (Health Claim reg. 432/12) in new territories and partner organisations to reinforce the Aristoil Med Healthy EVOO Cluster approach and methodology pointing to the sustainability of the cluster in the future.
Moreover through the ARISTOIL Living Lab partners will maintain the stakeholders community of EVOO rich in polyphenols connected, updated and supported with services in order to develop a competitive advantage for their product (block-chain, showcase). In addition the project aims to increase consumers awareness on the healthy benefits of EVOO rich in polyphenols as well as its differentiation from ordinary EVOO, promoting a new category of olive oil in the market.
The ARISTOILPLUS Kit will contain a set of tools for Capacity building and coaching for local businesses according to the needs of stakeholders , within the community of ASIRSTOIL Living Lab, that will be the main vehicles for the transferring process to the regions of Western Greece, Tuscany, Campania, Molise, Andalucia, Montenegro as well as South Albania.
PARTNERS:
Lead partner: EGTC Efxini Poli – Solidar City Network – GREECE
SVI.MED onlus – EuroMediterranean Centre for the Sustainable Development – ITALY
CCSEV – Official Chamber of Commerce, Industry and Shipping of Seville – SPAIN
ANCO – National Association of Olive Oil Cities  – ITALY
Valdanos – MONTENEGRO
ASSOCIATED PARTNERS:
Region of Western Greece – GREECE
Young Farmers Association of Ilia Prefecture – GREECE
AGRICULTURAL COOPERATIVE OF ORGANIC FARMERS OF AMALIADA & SURROUNDINGS "BIOHLIS" – GREECE
Città di Larino – ITALY
Menra – MALTA
DOO Asa Group – MALTA
DOO Kollari – MALTA
UNAPROL – Consorzio Olivicolo Italiano – ITALY
NUCLEUS ALBANIA
A.I.R.O. – Associazione Internazionale dei Ristoranti dell'Olio – ITALY
LIVA OLIVE GROVES – GREECE
1948 OLEUM ACEITE DE OLIVA ECOLÓGICO – SPAIN
MIPAAF – Ministero delle Politiche Agricole Alimentari e Forestali – Dipartimento dell'Ispettorato Centrale della Tutela della Qualità e della Repressione Frodi dei prodotti agroalimentari (ICQRF) – ITALY
AGRARIA VECINO HENS, S.L. – SPAIN
SCABEC S.p.A. – Società Campana Beni Culturali – ITALY
ACEITE AGUILAR SEGURA SL – SPAIN
Municipality of Vlore – ALBANIA
Please follow and like us: